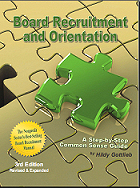 Board Recruitment & Orientation:
A Step-by-Step, Common Sense Guide
3rd Edition, Revised and Expanded
By Hildy Gottlieb
3rd Edition – Revised and Expanded Does your organization have a better program for recruiting and training the janitor than recruiting and training its board members? This step-by-step manual will help you create a strong recruitment and orientation program, putting your board on the road to increased effectiveness. Whether your board needs minor tweaks or a major overhaul, you will find yourself coming back to this common sense guide again and again. This no-nonsense manual, with dozens of samples, checklists, forms and real life stories, will show you: How changing your recruiting mindset can ignite your recruitment efforts What qualities board members MUST have (they may not be what you think!) Where to find prospects and who should do the looking How to 'uninvite' a prospect when the fit isn't right How new board members can hit the ground running the moment they're appointed – and earlier! Your organization's best recruiting tool How to get the most from folks who just aren't board material And more!
Retail Price $29.95
Click Here to learn more. Order individual copies via Amazon
or
Contact Us directly for bulk pricing
Purchase 3 or more for a 50% discount!